Liquid Storage Tank System

For medium range user, we encourage them to use the liquid storage tank supply system that consists of one or a few storage tanks, ambient air vaporizers, pressure regulating station and inter-connecting pipeline that connect from tank farm to work station. We provide secure supply by a fleet of transport tank trucks and quality pipeline installation. In addition we also provide the following services:-
Design and installation of cryogenic storage tank and pipeline systems (gas system design).
Pipeline maintenance – periodical pipeline checking to ensure your pipelines remain safe and leak free
Cryogenic vessel maintenance – periodically check & test on cryogenic storage tank to ensure the pressure vessels and safety equipment are operated safely and efficiently.
Scheduled delivery – at an agreed frequency depend on the customer usage.
Safety handling training services – we provide technical & safety training for end-user on handling of cryogenic products use by customers


On-Site Plant (ASU Plant or Gas Generator)

SIG provide on-site plant gas solutions system for large quantities cryogenic or industrial gases users. We will design, install, operate, maintain and supply the on-site plant to the customers. The on-site plant will be located in the customer premises or nearby the customer site. The gas will then be delivered to customer through a piping system.
a) Air Separation Units (ASU)
ASU is a plant that produces the atmospheric industrial gases nitrogen, oxygen and argon by using electrical power and air as the raw materials. The ASU plant is separating the air into gas O2, N2 & Ar or Liquid O2, N2 & Ar using cryogenic temperature distillation method. This method is the most commonly used method to produce high purity products at medium to high production rates. With the collaboration of the foreign ASU plant manufacturer, SIG is able to undertake the turn key project for constructing & commissioning of the ASU from 80 to 6,000m3/h in gas plant (O2, N2 & Ar) & 300 to 3,500m3/hr in Liquid O2, N2 & Ar Plant. Table below showed some of the successful ASU construction projects that had been undertaken
No

Type

Description

1

KDON - 300+880Y/ 1100

LOX : 700m3 /h
GO2 : 300m3 /h
GN2: 1100m3/h
Oxygen Purity: >99.6% O2
Nitrogen Purity : ≤3PPm O2

2

KZOAr - 1100Y/35Y

LOX : 1100m3 /h
LIN : 35m3 /h
LOX Purity >99.6% O2
LIN Purity : ≤2PPm O2

3

KDON - 4260Y/5250Y

LOX: 3400m3/h

LIN : 3400m3 /h

LOX : 99.6% O2

LIN : ≤3PPm O2

4

KDONAr - 500 + 2130Y /400+2860Y/70Y

GO2 : 500m3 /h

LOX : 1700m3 /h

LIN : 1850m3 /h

GN2 : 400m3 /h

LAr : 55m3 /h

Oxygen Purity: >99.6% O2

Nitrogen Purity : ≤3PPm O2

LAr Purity : ≤2PPm O2 ;

≤3PPm N2

5

KDON - 3460Y/2500/115Y

LOX : 2760m3 /h

Gas N2 : 2500m3 /h

LAr : 90m3 /h

Oxygen Purity: >99.6% O2

Nitrogen Purity : ≤3PPm O2

LAr Purity : ≤2PPm O2 ;

≤3PPm N2
b) Gas Generator
Other than cryogenic air separation process, the non-cryogenic air separation processes also being so popular recently & had been implemented to produce the gaseous nitrogen and oxygen start from 90's decade. This method would be more cost effective choices when demand is relatively small (tens of tons per day) and when very high product purity is not required. Unlike cryogenic plants which use the difference between the boiling points of nitrogen, oxygen and argon to separate and purify those products, the Non-cryogenic air separation or more recognized as "Gas Generator" systems is using the physical property differences such as molecular size and mass, to produce nitrogen and oxygen at sufficient purity to meet the needs of many types of gaseous nitrogen and oxygen users. The most common technologies are PSA (Pressure Swing Adsorption), which is used to produce nitrogen or oxygen (using different adsorbants); VPSA (Vacuum-Pressure Swing Adsorption), which is used in to produce oxygen; and Membrane Separation, used to produce nitrogen gas. The gas generator system is compact and operates at near-ambient temperature and pressure & thus once installed, it can usually be brought on-line in less than half an hour. The chart below showed the typical gas generator system that can supply by SIG.
| | | | |
| --- | --- | --- | --- |
| No | Capacity | Purity | Methodology |
| 1 | 30Nm3/h | 99.9 | PSA |
| 2 | 50Nm3/h | 99.9 | PSA |
| 3 | 1 50Nm3/h | 99. 9 % | PSA |
| 4 | 30 0 Nm3/h | 99.9% | PSA |
| 5 | 100Nm3/h | 99.999% | PSA & Purifier |
| 6. | 200NM3/hr | 99.999% | PSA & Purifier |
| 7 | 300NM3/hr | 99.999% | PSA & Purifier |
We also supply of liquid oxygen, liquid nitrogen, liquid carbon dioxide and liquid argon for small volume of liquefied gases user through:-
c) Portocyro tank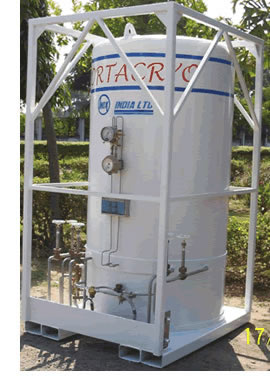 This is a liquid tank that contain gas of a pproximately 657 m3 of Nitrogen and 812 m3 of Oxygen which is equivalent to about 94 cylinders of N2 and 116 of O2 cylinders. By installing this tank, there would be no more stocking of cylinders needed & also decrease the workmanship required in moving & handling of gas cylinders. The another advantange of this tank is able to provide medium pressure gas deliver at constant pressure & thus make it perfectly suit for the use of Medium and Small Hospitals, Fabrication Workshops, Chemicals and Pharmaceuticals, Remote purging & etc.

Technical Specification of the Portacryo

Model

P0912DS

Configuration

Vertical

Gross Volume

972 litre

Net Capacity

924 litre

Material of Manufacture

Inner Vessel : Stainless Steel,

Outer Vessel : Carbon Steel

Inner Vessel Design & Mfg. Code

AD - Merkblatter

Max. Allowable Working Pressure

12.00 kg/cm 2 (g)

Capacity of Gas at 27 ºC

N2

657m3 @748 kg

O2

812m3 @1,055 kg

Ar

793m3 @1,292 kg

Empty Weight [Approx]

950 kg

Full Weight [Approx]

LN2

1,698 kg

LO2

2,005 kg

LAr

2,242 kg

Skid Dimensions (L x W x H)

1,600 x 1,295 x 2,185 mm
PLC Tank/ LGC (Portable liquid container)

Small liquid tanks (dewar tank)

Bulk Hydrogen Supply System
On April 2012, SIG have start operate its first renewable , environment friendly water electrolysis hydrogen plant at Nilai . The capacity of the plant was 4800 Nm3 per day. The plant was decomposition of water (H2O) into Hydrogen gas (H2) and Oxygen gas (O2) by electric current being passed through the water and no produce conventional air pollutant and greenhouse gases when production process. The hydrogen gas purity was achieve 99.999% and without any CO and CO2 impurity.
The hydrogen gas was packing in different size of cylinder, pallet and long tube. SIG contain 2 type of hydrogen long tube specification
Table 1 : SIG Hydrogen Long tube Specification
| | | | |
| --- | --- | --- | --- |
| Type | Size | Capacity | Working Pressure |
| A | 40ft (L) x 8ft (W) | 3965 Nm3 | 200 bar |
| B | 20ft (L) x 8ft (W) | 3000 Nm3 | 200 bar |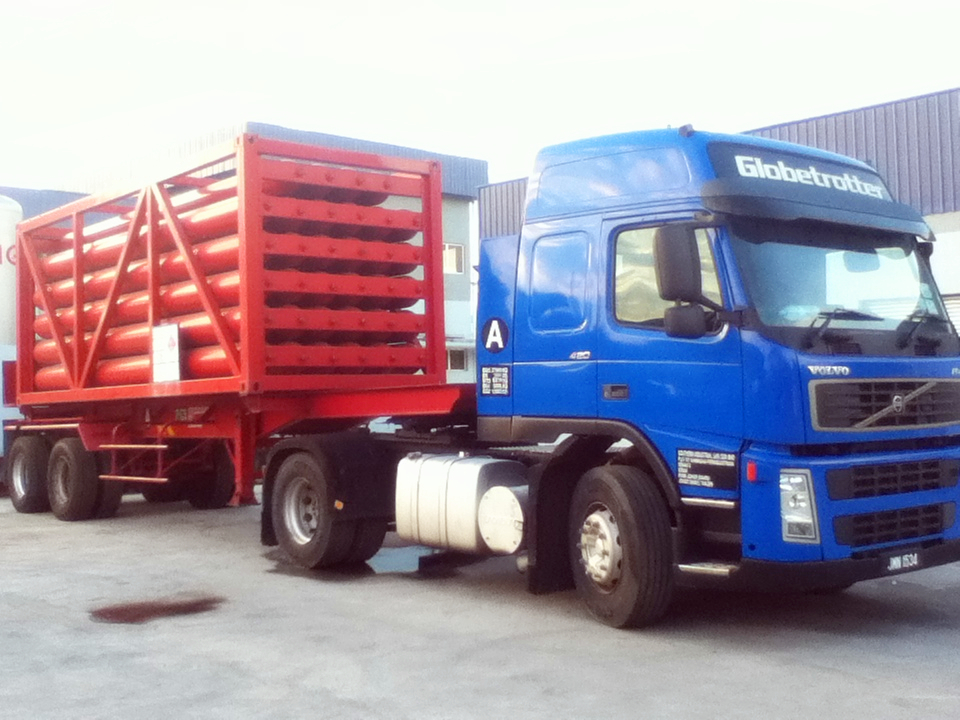 20' Long Tube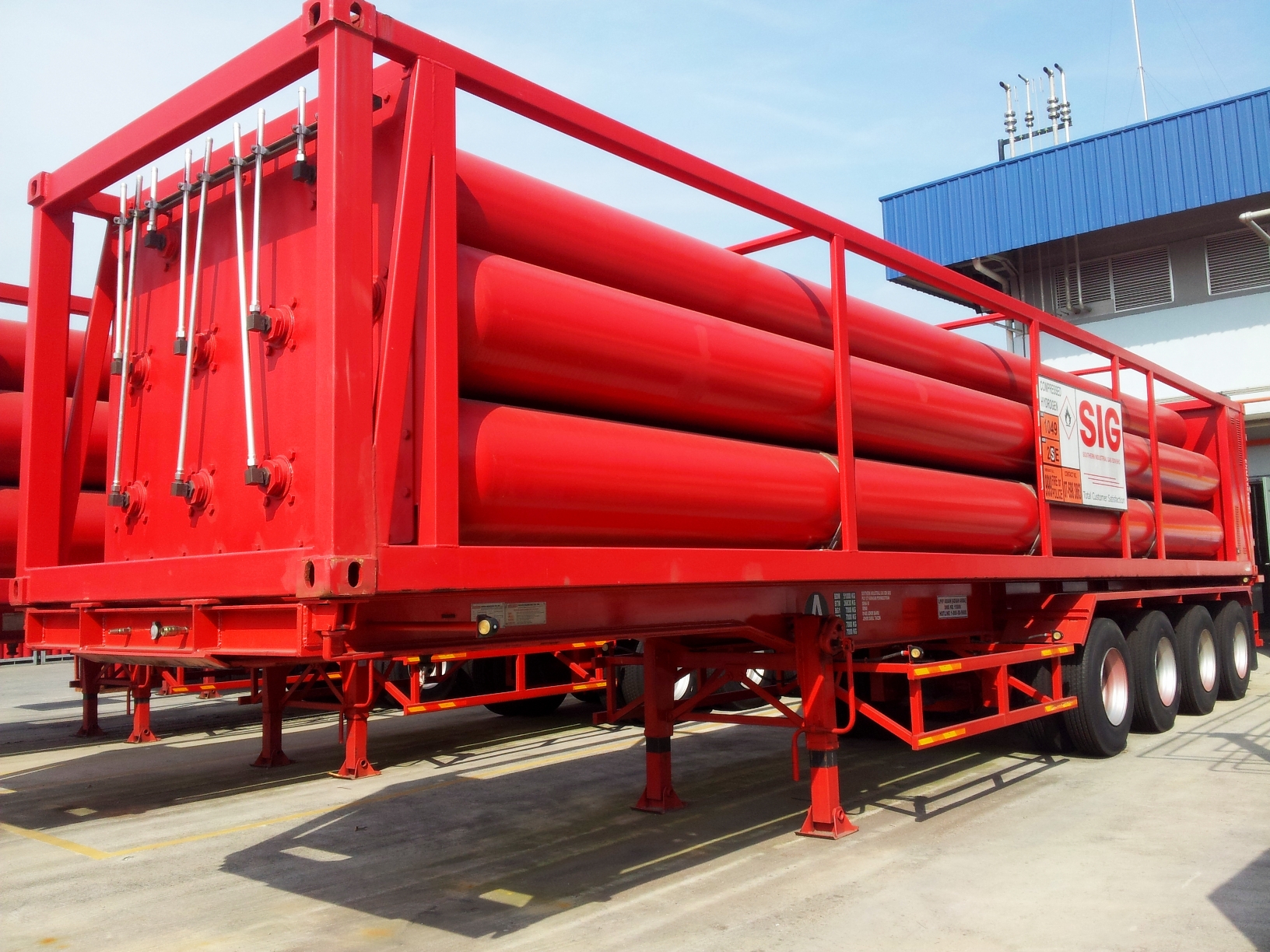 40' Long Tube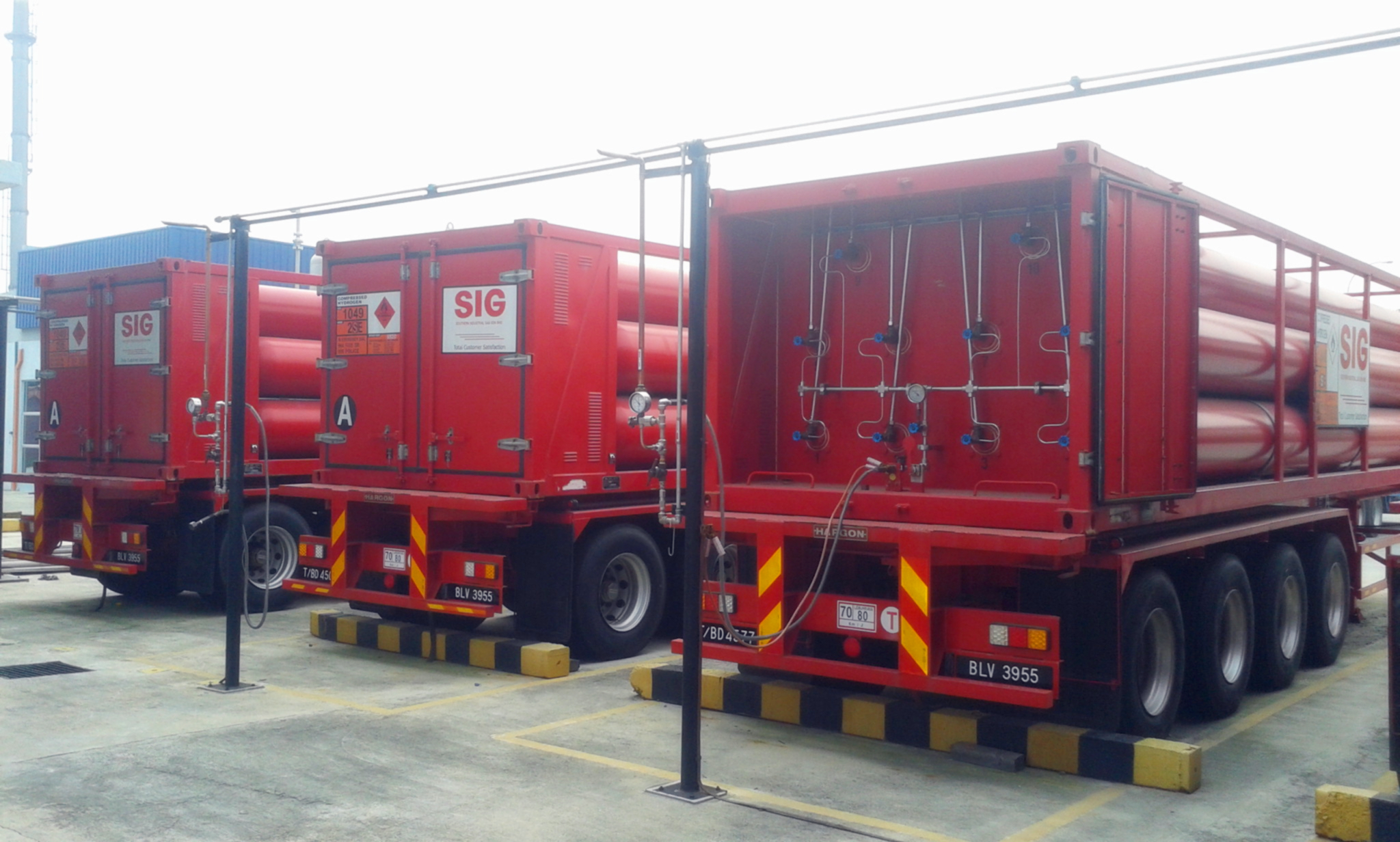 Refilling Process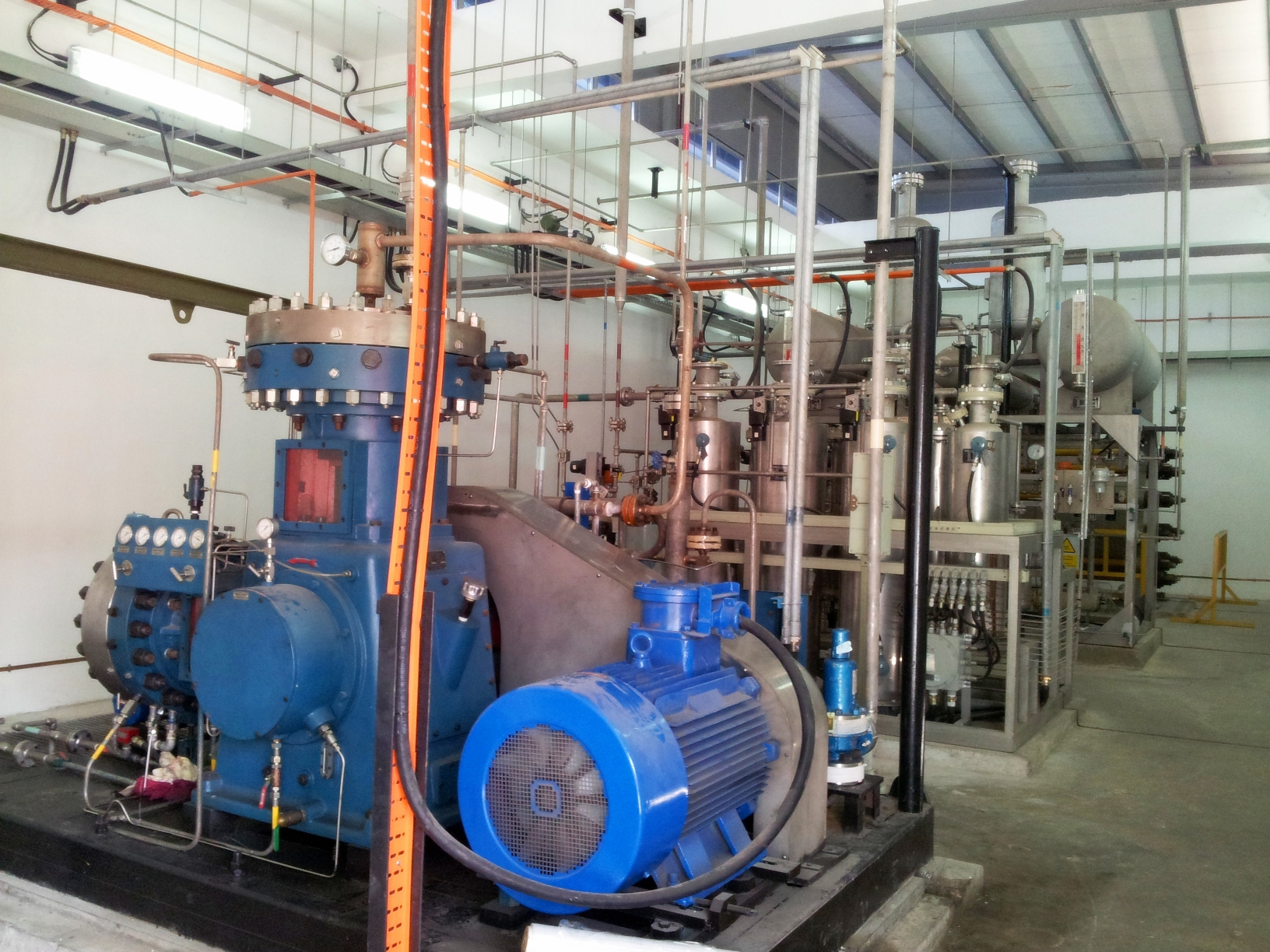 Hydrogen Plant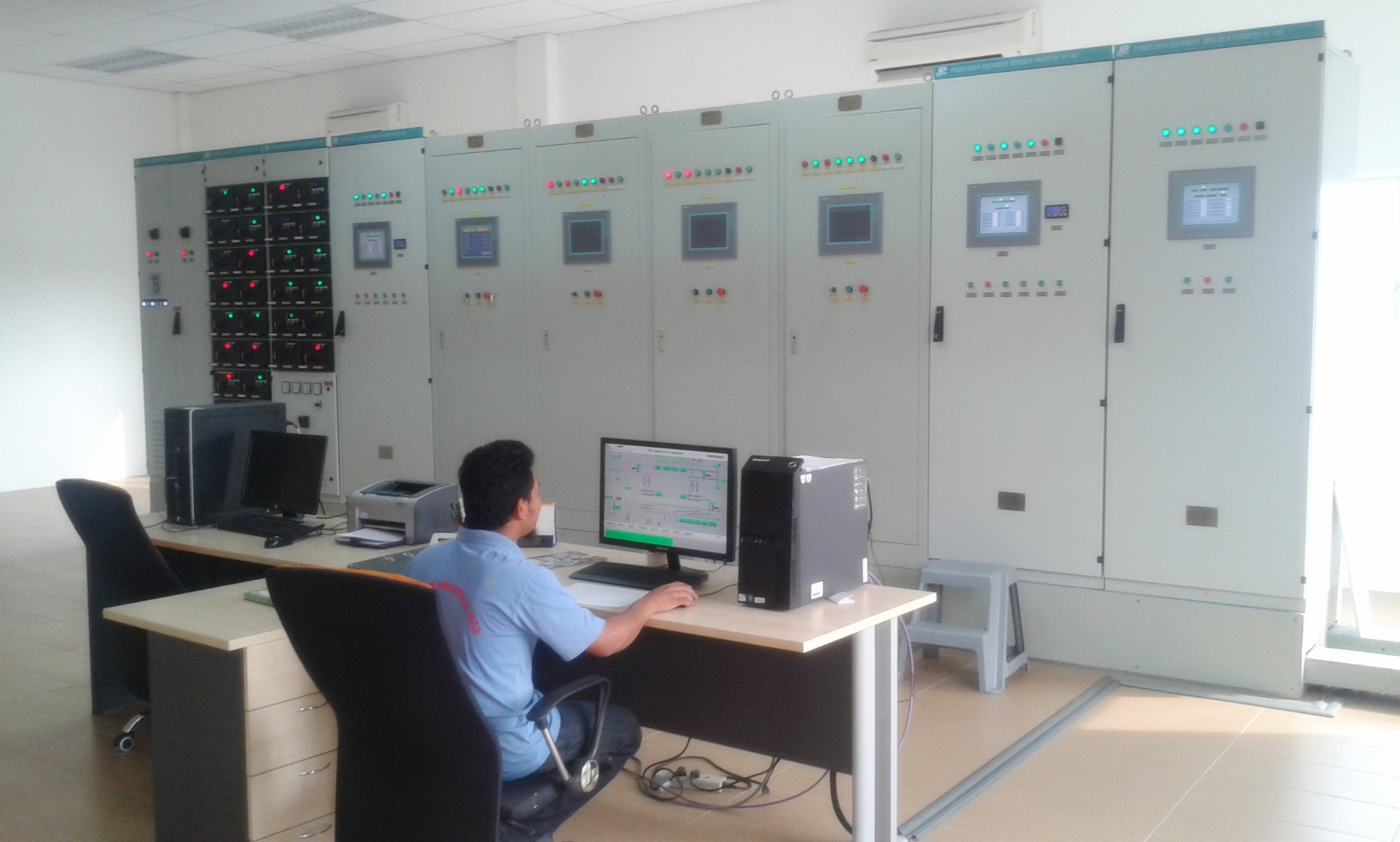 Control Room